The Story of Val-Pak and Martin Pumps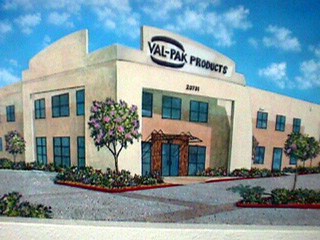 Val-Pak Products was established in 1979, born out of the frustration of a large pump manufacturer ceasing production of a widely-used repair part. Unable to obtain the copper liner he needed to perform pump repairs, Ben Solakian decided to manufacture the part himself. Like countless other American success stories, Solakian started production on copper liners out of his garage workshop in Van Nuys, California. Local wholesale distributors carried the product with resounding success, and soon after, a cast-iron adapter for the same line of pumps was added when the original manufacturer stopped making those as well.
The initial demand for Val-Pak's repair parts was overwhelming. As equipment makers discontinued various parts, Val-Pak began producing them. Beginning with the copper liner, Val-Pak's product line has grown to include more than 750 repair and replacement products.
In 1984, Ben Solakian and his son Mike opened a 2,500-square-foot building in Saugus, California. Val-Pak continued to expand their parts line and also began packaging private-label chemical products, adding silk-screen bottle-decorating and filling to its list of services. The company soon outgrew the modest Saugus plant, and in 1986 relocated to a 6,800-square-foot facility in Valencia, California. Just one year later, exponential success forced Val-Pak to expand yet again, moving to a 10,800-square-foot building in nearby Canyon Country, California, where they remained until 2002.
To gain greater control over the quality of its manufacturing operation, Val-Pak in 1990 purchased a state-of-the-art machining center. Two computerized lathes and an additional machining center were added as the business expanded throughout the 1990s. Also in 1990, Val-Pak began to manufacture D.E. filter grids, purchasing the molded grid frames from an outside supplier and sewing on the fabric to produce an immaculate finished product. A 1,100-square-foot building was opened specifically for this operation. In 1993, an additional 1,800-square-foot building was opened to accommodate Val-Pak's silk-screen operation.
To further increase its ability to control every step of the manufacturing process, Val-Pak in 1998 purchased an injection molding company in Chatsworth, California, enabling the molding of all of their plastic parts in-house. One year later, Val-Pak began to build a mold-making shop to actually produce the molds from which the plastic parts are made. Currently, Val-Pak has three full-time tool and die makers to run its mold-making operation.
In 2002, Val-Pak moved into a new 34,000 square-foot facility in Santa Clarita, California, where they are headquartered today. With 20 employees, all of the company's manufacturing, mold making, injection molding and machining is performed in-house, with no outsourcing. This permits the company to react quickly to customer demands and to maintain absolute control over the quality of its products.
In April 2006, Val-Pak purchased the assets of Martin Pump Co., which made 1/3-
to 3-horsepower residential brass pumps and 3-, 5-, 7½- and 10-horsepower commercial brass pumps. On June 1, 2007, Val-Pak acquired the assets of Aqua-Flo, another manufacturer of residential and commercial brass pumps. The acquisitions allowed Val-Pak to meet demands of other industries worldwide. With the vast in-field experience of its owners, Val-Pak is able to keep a watchful eye on market demands and over the quality and durability of their products, which always exceed the specifications of the original manufacturer.
Val-Pak Products' entire vision is to continue producing the highest quality swimming pool and spa parts while keeping jobs and manufacturing on American soil. All Val-Pak parts are produced to the standards that founder Ben Solakian and his son Mike have worked so hard to establish. They have crafted and remain committed to a tradition of producing world-class parts and providing exceptional service. This quality and reliability have made Val-Pak Products the brand that professional pool and spa service and repair technicians ask for by name.